Managing Partner
Phoenix Office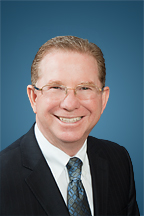 Scott brings over 20 years of experience in corporate America and the executive search field to TowerHunter, Inc. He has successfully led high-profile searches for CEO's, Presidents, COO's, General Managers and Vice Presidents in the high-tech, health insurance, financial services and bio-medical arenas under difficult timeframes and intense public scrutiny. As one of the Managing Partners and founders of TowerHunter, Inc., Scott is at the leading edge of executive search issues in several key industries. He is currently the President of the Arizona Human Resources Executive Forum and is called on to work with clients in executive assimilation strategies. In addition, Scott's hands on experience implementing Lean/Six Sigma has been critical to client's requiring searches with a continuous improvement focus.
His previous experience includes over 10 years at American Express, culminating in his role as Vice President of Human Resources within the Consumer Card Group and Corporate Card organizations. Scott was also Vice President of Human Resources for Washington Inventory Service, a 14,000-employee company that conducts inventories for retail establishments. In addition, he was the Senior Director of Human Resources for VLSI Technology, a leading integrated circuit company located in San Jose.
Scott holds an MBA from the University of Phoenix, and received an undergraduate degree in Organization Communication from Brigham Young University.
Scott Smith, Managing Partner
Phoenix Office
[email protected]
 602-652-8605