Partner
Phoenix Office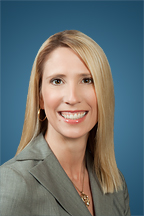 Colleen brings over 15 years of experience in executive search to her clients at TowerHunter.  Her current practice focuses on executive search in a variety of industries with specialties in healthcare and financial services. Completed search assignments include Director, VP's, and C-level executives across all disciplines such as Operations, Finance, IT, Sales & Marketing, and Human Resources.  Colleen's strengths include the ability to uncover top talent in the marketplace, the keen sense to assess talent, and her relentless desire to bring a slate of top tiered candidates to her clients.  Her strong presentation skills and ability to communicate complex information in a clear and concise manner have contributed to her ability to develop and maintain a strong rapport with executive leaders.  Whether it is a remote location, competitive market, or field with a low supply of potential candidates, Colleen meets the challenge!
Prior to joining TowerHunter, Colleen spent eight years at a national retained executive search firm that serves the healthcare industry   She gained considerable experience as a Vice President/Search Consultant and proved her ability to provide clients with top talent in a timely manner. Clients included hospitals, managed care organizations, medical group practices and other healthcare related organizations on a national basis.
Colleen also brings to her clients a deep understanding of the research that goes into any executive search assignment.  Having worked as a Researcher and Manager of Research, Colleen has developed the skills to find the best talent in the industry.  Previously, Colleen worked in the financial services industry at Wells Fargo and Merrill Lynch.
Originally from Chicago, Colleen moved to Arizona and graduated from Arizona State University with a Bachelor's degree in Communication with an emphasis in Business.
Colleen Neese
Vice President/Partner
Phoenix Office
[email protected]
602-652-8603